Welcome to Denmark, Maine!
Government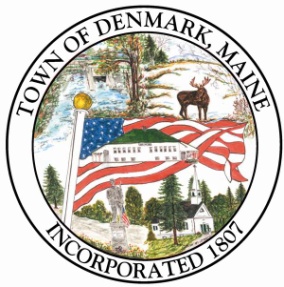 The Town provides general governmental services for the area within its boundaries, including emergency services, assessing, code enforcement, solid waste disposal, maintenance of highways, dams, streets, parks, recreation and municipal waterfront areas.
Naming of Denmark
Residents of Denmark had selected several names for their new town before travelling to the legislative session to incorporate the town. These names were not recorded and have been lost to time. When the delegation attended the incorporation ceremony in the legislature, the governor selected the town's name as Denmark.
Over time speculation has risen over the origin of the name Denmark. Denmark is not a Danish community. There are several other communities in Maine that are named after cities and countries from other regions in the world. It is not known whether or not the town was named with these other communities in mind. At present, members of the community and state government cannot agree on why the name Denmark was chosen.
For more information on Denmark click here for the Comprehensive Plan.
Education
Public Education is provided for grades Kindergarten (K) through Twelve (12) through the MSAD 72. Denmark students K-4th grade attend the Brownfield Denmark Elementary School, located here in Denmark. Grades 5th - 8th attend Molly Ockett Middle School located in Fryeburg. The school district contracts with Fryeburg Academy for High School Education , grades 9 - 12.
For more information on MSAD 72 click here.
Law Enforcement
Police protection is provided by Oxford County Sheriff's Office. Please dial 911 if you have an Emergency, for non-emergency inquiries or reporting dial 207-743-9554.
Links
Disclaimer
The information on this website is updated regularly. There will be instances where the information is not current and/or up to date. If you have any questions please contact the Denmark Town office at (207) 452-2163 or the Denmark Town Manager at (207) 452-8850 to verify the information is correct. Thank you.